The Addams Family
I loved the Addams family, especially the movies which came out in the 1990s staring Raul Julia as Gomez and Anjelica Huston as Morticia. Their upside-down values and crazy world-view appealed to my quirky sense of humor. Watching the family members interact with hapless middle-class Americans was a joy.
This image of Uncle Fester and Lurch comes from the original TV show, which ran from 1964-1966.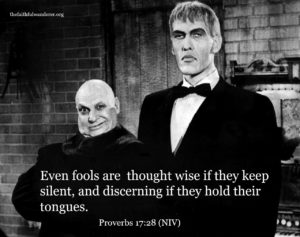 Even fools are thought wise if they keep silent, and discerning if they hold their tongues.
Personal Confession Time
I am by nature "a talker." I can be tactful and kind. Also, I don't always say what I think. But the fact remains that I talk more than I listen. Drawing other people out is a skill I am currently working hard on.
So when Proverbs 17:28 says "Even fools are thought wise if they keep silent" I have to ruefully acknowledge the opposite is true for me; if I am thinking something foolish, it frequently comes out of my mouth as part of the overall " word flood."
'Open mouth and insert foot' appears to be my unconscious motto. My one comfort is that I stopped being a teenager decades ago. So thankfully, I'm no longer in any danger of 'dying from embarrassment.'
Why Use Lurch and Uncle Fester?
The most disturbing thing about the Addams clan wasn't their looks. Each member's dress and appearance was odd, but collectively the whole family could easily have been seen as 'eccentric' or 'colorful,' especially when people knew of the family's great wealth.
No, it was the small talk that did people in.
Visitors would begin to feel increasingly uneasy and frightened as the conversation progressed. Morticia, Gomez and the others had no consciousness of being weird. So they would happily share the most terrifyingly creepy facts and stories about their everyday lives.
The Addams family may have unconsciously dressed for Halloween year round, but this was one household who didn't get many trick or treaters.
Last Thoughts
In Proverbs, fools don't seem to have self-control over either their tongues or their emotions. They are often short-sighted, quick-tempered, arrogant loud mouths, who are frequently unteachable.
Because of this, a fool would have to be silent for a long period of time to pass as a wise person. It wouldn't work to have laryngitis for just one day.
Wise people will sometimes do foolish things, but fools seldom do anything wise, because they can't recognize wisdom when they see it.
Meanwhile, the Bible says if Christians lack wisdom we can pray for it (James 1:5 and James 3:13-18.)
It might be a good idea in these troubled times.
This image from the original TV show came from Pixabay.com.
Please share or like this post