One Mosquito can Change Everything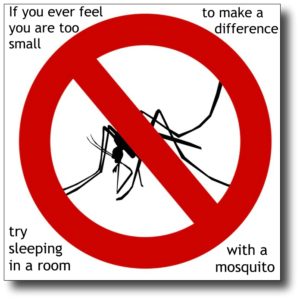 "If you ever feel you are too small to make a difference, try sleeping in a room with a mosquito."
God delights to use the most unimportant people to do His life-changing work in this world. If you have trouble believing that God can use you, just remember the power of an annoying mosquito.
I've had a mosquito buzzing around my ear when I was trying to sleep. It was impossible to ignore that stupidly persistent insect. Even burying my head under the sheets didn't help. By that time, I was so frustrated and angry about the mosquito's buzzing that I couldn't sleep at all.
God Uses Us
Most of Jesus' disciples were poor, ignorant, working-class people. But because these men and women followed Jesus wholeheartedly, they didn't stay that way (Acts 4:13). The Holy Spirit used this handful of ordinary, God-led people to shake the entire civilized world.
 5 But the Jews were jealous, and taking some wicked fellows of the rabble, they gathered a crowd, set the city in an uproar, and attacked the house of Jason, seeking to bring them out to the people.

6 And when they could not find them, they dragged Jason and some of the brethren before the city authorities, crying, "These men who have turned the world upside down have come here also, 

7 and Jason has received them; and they are all acting against the decrees of Caesar, saying that there is another king, Jesus."  (Acts 17:5-7 RSV)
The Thessalonian Jews accused Jesus' followers of "turning the world upside down." One modern-day preacher said that God actually used the disciples to "turn the world right-side up."
A Last Random Thought
In Esther chapter 6, King Xerxes can't sleep. Because of the knowledge he gains that night, the events of his kingdom start to shift.
But what kept the king awake?
Perhaps God's divine messenger came in the form of a mosquito!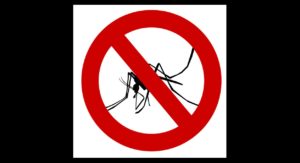 The mosquito sign image is from Pixabay.com.
Please share or like this post