What are you Building?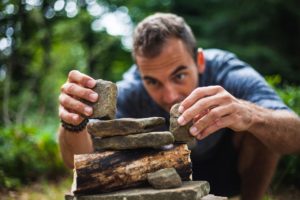 How are you spending the gift of time God has given you?
None of us knows when our last day on earth will be. As Christians we believe in eternity, but often we jealously guard our free time as if it was something to be hoarded and spent on our pleasures.
Remember, our time on this planet is limited. We each have an expiration date. As Bible teacher Andy Stanley puts it, "When you're out of time, you're out of life." The truth behind his words is startling. I don't know if I'll live 35 more years or if I'll die next Tuesday at 6:23 pm. You too are equally clueless about the time you have left.
That's part of God's deliberate design.
Our Savior gives us free choice because He loves us. But we will ultimately answer to Him about how we used all our God-given gifts, including our time.
The Story of the Wealthy Dreamer
In Luke, Jesus tells a parable about a rich man who enjoyed a very large harvest. His reapers brought in so much grain that his barns couldn't store it all. His solution was simple; build bigger barns. He foresaw a future life of ease, pleasure and endless self-indulgence.
But the last words in Jesus' parable stings. Because like the rich man, we too often pursue comfort, money and security, whether we are rich or poor.
The rich man's fate made a mockery of all his grand schemes.
20 "But God said to him, 'You fool! This very night your life will be demanded from you. Then who will get what you have prepared for yourself?'

21 "This is how it will be with whoever stores up things for themselves but is not rich toward God."  (Luke 12:20-21 NIV)
Jesus' parable is the story of a man who wasted the precious hours, days, weeks and years of his life. There's nothing sadder.
How to be Rich Toward God
Obeying the Spirit's promptings ends up giving us 'a life well spent.'
In the last few years, I've tried to always do any small act of kindness that enters my mind. I happen to believe that God had the thought first, then passed it on to me. So the idea itself is a bit of a 'holy prompt.' The kindness might be small, just a funny note or card, but it's God-directed and it achieves His purposes.
Jesus made clear that the littlest things matter to God.
And whoever gives to one of these little ones even a cup of cold water because he is a disciple, truly, I say to you, he shall not lose his reward." (Matthew 10:42 RSV)
We serve a God who can take our smallest obedience and miraculously multiply the results.
Just a Letter
When Paul wrote his prison letters, he thought he was encouraging and blessing a handful of churches and leaving a final clear teaching to a few embattled believers whom he loved, in Ephesus, Philippi and Colossi.
At most, Paul thought his words would be read by a handful of people, have some impact and then be forgotten.
Wrong.
Today his letters are still bearing eternal, life-changing fruit, because God decided that they would. I can picture Paul's look of awed surprise.
A Closing Word of Encouragement
Remember, anything the Holy Spirit asks you or I to do, no matter how trivial, is never a waste of time.
Please share or like this post