Jesus is our Source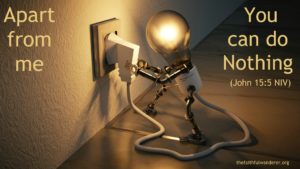 5 "I am the vine; you are the branches. If you remain in me and I in you, you will

bear much fruit; apart from me you can do nothing. (John 15:5 NIV)
This little guy is very bright. He knows he can't shine unless he plugs himself into the power source.
My Suggestion:
Roll the phrase "apart from me you can do nothing" around in your head for a few days and let the Holy Spirit speak to you.
This image came from Pixabay.com.
Feel free to share my meme; but please leave my blog's address intact.
Please share or like this post