The Feline Owner of Some Merciful Humans
A warm basin with sunlight streaming in—what a wonderful place for a nap!
Yes it is—at least, in this particular household.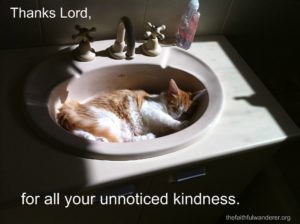 Apparently, this cat's humans have refrained from doing anything devilish. Elsewhere, this feline would have a sudden, wet awakening!  Instead, this sink remains a great cat-napping place in this home—safe and warm.
Do the people in this household dry the sink, before the sunbeams make it so inviting? Remind each other to leave the bathroom door open? Stop by to give their warm, furry friend a soft stroke?
There's not a doubt in my heart; this cat is well loved.
The Gift Giver
Just as an adult's kindness toward their pet or child sometimes goes unnoticed, I think we Christians can be equally blind. There aren't any random "happy coincidences." There's only "The Giver of Good Gifts."
17 Every good and perfect gift is from above, coming down from the Father of the heavenly lights, who does not change like shifting shadows. (James 1:17 NIV)
So how many times has our Heavenly Father shown each of us some "unseen kindness" this week?
We'll never know.
Sheep in Need of a Shepherd
Jesus calls Himself our Good Shepherd for a reason. Sheep are pretty helpless. Unaware of danger. Short-sighted and clueless. They stay safe only when they follow their shepherd. He's his flock's protector, healer and comforter. He actively seeks out those who are lost or in distress. A good shepherd will often even weed the pasture where his sheep graze, to prevent his woolly charges from eating any poisonous plants.
Funny isn't it? Described that way, the sheep sound just like people.
My favorite Good Shepherd passage is found in Revelation.
Therefore, "they are before the throne of God
    and serve him day and night in his temple;
and he who sits on the throne
    will shelter them with his presence.
16 'Never again will they hunger;
    never again will they thirst.
The sun will not beat down on them,
    nor any scorching heat.
17 For the Lamb at the center of the throne
    will be their shepherd;
'he will lead them to springs of living water.
    'And God will wipe away every tear from their eyes.

     (Revelation 7:15-17 NIV)
Stop for a moment today and thank the Lord for all His "unseen kindnesses" this week.
Then think back over your life and see if you can spot times when the Holy Spirit intervened, but you didn't notice.
The sleeping cat image comes from Pixabay.com.
Resources:
For some useful information on modern day shepherds, click here.
Please share or like this post