Space Junk
We complicate everything—it's human nature to do so.
I became intrigued with this image because it illustrates one of the more complex ways humans communicate. Obviously this astronaut has to set up the antenna with precision. If it's not clearly directed at a specific location on earth, no signal can be received or sent back from Mission Control.
A satellite that stops communicating with earth is useless. It becomes just an expensive piece of space junk.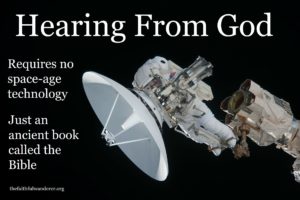 Hearing from God requires no space-age technology. Just an ancient book called the Bible.
The Easiest way to Hear from God
I have heard it said that God is always speaking—and He is.
The clearest way God ever spoke to us is when He stepped down from Heaven and became a human being. Walking among us, Jesus revealed God's nature and His heart—tender, caring, compassionate and merciful.
Then when He returned to Heaven, Jesus sent the Holy Spirit to dwell inside us.
I'm going to tell you a well-known secret. The most common way God personally speaks to each one of us is through the Bible. Like Jesus, it's called "the word of God" and in the Holy Spirit's hands, Scripture is a powerful tool to open our eyes.
I came to Christ in college, through the Navigators. The Navs emphasized spiritual disciplines, like prayer, evangelism, spending daily time with God and memorizing scripture. Early on, one of my leaders said, "If I say one thing and the bible says something different, I'm the one who's wrong."
Christians think of reading scripture as a irksome duty or a boring spiritual discipline. But people like me who develop the habit soon discover that the Holy Spirit often "highlights" a certain verse or phrase. I can re-read a scriptural passage I've read several times before and suddenly, something new "jumps out" at me. A fresh spiritual insight or idea catches my attention.
It gets to be comical—I'm absolutely certain those "new" words weren't in my Bible yesterday! But of course, the passage hasn't changed; I just always skimmed over those words before.
As a baby Christian I was taught that the Holy Scriptures are the inspired word of God. As a result, the Holy Spirit could use passages to challenge, comfort and correct me and re-order my view of the world.
Maybe Hebrews 4 says it best.
12 For the word of God is alive and active. Sharper than any double-edged sword, it penetrates even to dividing soul and spirit, joints and marrow; it judges the thoughts and attitudes of the heart. (Hebrews 4:12 NIV)
An Effective Plan of Action
If you aren't in the habit of daily scripture reading, start with one of the gospels. Make a commitment to read the bible 10-15 minutes a day. Before you begin reading, ask the Holy Spirit to help. If He shows you something you never saw before, write it down in a notebook. If you're puzzled, ask Him a quick question. You might not hear the answer right away, but over time He'll make many spiritual truths clear to you.
Remember, our Savior is a personal God. He wants to speak to you. He'll call you to new levels of obedience, throw you a life-line when you are drowning and challenge you to walk on paths of greater faith.
Perhaps like me, one day you too will call Him "Christ the Life-Changer."
Please share or like this post