"Unforgiveness is like taking poison and hoping the other person dies from it." Joyce Meyer
The Key to Freedom
Originally this image showed a plump red heart on a white background with a black keyhole. I accidentally hit the wrong key in Photoshop and inverted all the colors.
It was a fortunate mistake, because this image is much more powerful.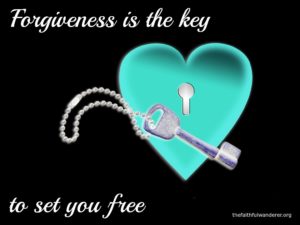 Forgiveness is the key to set you free.
The Symbolic Meaning of my Blue Heart
The Black Background. When we don't forgive someone, it darkens our emotional world and keeps the pain alive. The other person's past words and actions still have tremendous power over us. The offender can be dead and gone for years, yet a single bad memory in the morning can ruin our whole day.
The White Keyhole. It looks is like light shining into the darkness. God has hope and deep emotional healing for each of us.
The Blue Heart. The color blue symbolizes depression. This heart is also hollow; there's a lack of oxygen and life.
Corrie ten Boom's Story 
Corrie ten Boom was in her mid-fifties when the Nazis invaded and occupied Holland during World War II. She, her older sister Betsy and their 80-year-old father Caspar successfully hid Jews in their home until the family was betrayed to the Gestapo. Her father died while in custody and these two courageous middle-aged sisters were sent to a Nazi Concentration Camp.
Only Corrie survived. Due to a clerical error, she was released from Ravensbruck concentration camp one week before all the women of her age group were executed.
After the war, Corrie opened a home in Holland for people brutalized by the Nazis. During that time, she discovered a powerful spiritual truth. Those who forgave their tormentors healed. Those who didn't remained traumatized.
What Forgiveness Doesn't Mean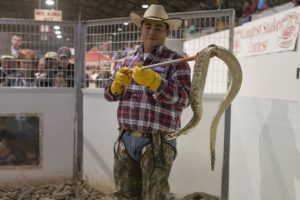 Just because you forgive someone doesn't mean you have to put yourself in their power again.
This cowboy apparently enjoys reptiles, but he takes no chances. Picking up his poisonous "partner" with a pole and wearing protective clothing is just a wise thing to do when you're standing in a snake pit.
Actually, there's a proper procedure for handling rattlesnakes of all kinds.
Unfortunately, hurtful people in our past are often unrepentant or uncaring. Healing the relationship might not be possible.
After forgiving the person, seek the Holy Spirit's leading on what you should do.
Important Last Thoughts
Forgiving someone who's hurt you is tough. But it's also one of the most powerfully freeing things we can do as human beings. That's why Jesus commanded us to do it.
21 Then Peter came to Jesus and asked, "Lord, how many times shall I forgive my brother or sister who sins against me? Up to seven times?"

22 Jesus answered, "I tell you, not seven times, but seventy-seven times.

(Matthew 18:21-22 NIV)
We don't forgive because the other person deserves it. We forgive in order to heal. Forgiveness has the power to free us from a painful past.
Remember too, forgiving is not an emotion, it's a choice. When we are willing to forgive, the Holy Spirit steps in to help.
The original image of the heart and key is by Morguefile.com and the rattlesnake handler image is from Pixabay.com.
Resources:
Corrie ten Boom's book, The Hiding Place is an amazing testimony of a Christian family's courage in the face of great evil.
Grammar lesson: the word "unforgiveness" is found in Collin's dictionary but not in some other dictionaries. Apparently it's in the process of becoming an established English word. "Unforgiven" is also absent from most on-line dictionaries—sorry Clint, but it is.
Please share or like this post