Are You a Terrible Forgiver?
But I have a confession to make; I'm a terrible forgiver. Once I take offense, I have a very hard time letting go of my anger or hurt.
So I've found a way to short-circuit the process. Fresh emotional wounds often become infected with bitterness or anger. As we obsess about the wrong done to us, the offense "hardens into concrete."  But God has given His people the tools to successfully cope with wounded feelings, when they happen.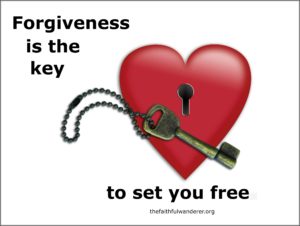 Forgiveness is the key to set you free.
Avoiding Life-Crippling Emotions
Injury and anger can easily turn into hatred, bitterness and self-pity. Each of these emotions cripples me as a human being. It's like dragging around a very heavy chain. To combat this, I fight back with some of God's most effective spiritual weapons.
The Unexpected Lawsuit
Several years ago, I ended up being sued by another Christian. My husband and I give many people rides to church events; this woman was one of our regulars. One day she and I got into a car crash while driving to a woman's retreat. The accident was definitely my fault.
The next week, letters quickly arrived in my friend's mailbox from various attorneys, offering their services. She hired one immediately.
I didn't know about the lawsuit until two years later. After finding out, I had some key decisions to make.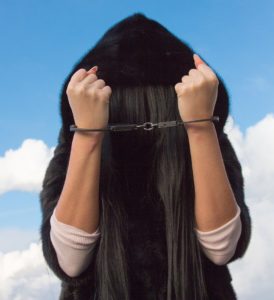 It's a sad fact that sometimes you bless someone and get bitten.
The two of us had been friends for many years. Unfortunately, she couldn't resist the opportunity for quick, easy money. I discovered my friend had a hidden greed problem. She salved her conscience by declaring that she was actually suing our insurance company, not us; but we were still "on the hook." We'd have to pay any cost above what we were insured for, if she won a great deal of money.
Her betrayal caused poison to seep into my system—so how could I neutralize it? How could I stop damaging "scar tissue" from forming over my heart?
Simple—by fighting back spiritually with the tools the Almighty has given all of us.
11 Put on the full armor of God, so that you can take your stand against the devil's schemes. 12 For our struggle is not against flesh and blood, but against the rulers, against the authorities, against the powers of this dark world and against the spiritual forces of evil in the heavenly realms. (Ephesians 6:11-12 NIV)
Much more was at stake than a little cash. If I didn't protect my heart, I could turn into an embittered, self-centered, feeble Christian—and we already have too many of those in Christ's kingdom.
Satan's strategy was simple; fill my heart with bitterness, so I'd refuse to help anyone else. Bitterness, self-pity and soul-killing resentment were what I needed to fight against.
My Spiritual Battle Begins
Doing the right thing spiritually is always a choice. Our emotions may be screaming, but walking in obedience to God's principles is always a powerful path to take.
Spiritual Weapon #1: Pray for Your Enemies
44 But I tell you, love your enemies and pray for those who persecute you, 45 that you may be children of your Father in heaven. He causes his sun to rise on the evil and the good, and sends rain on the righteous and the unrighteous. (Matthew 5:44-45 NIV)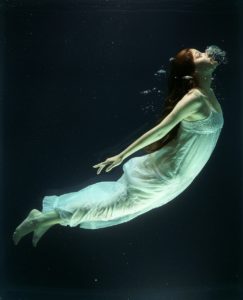 Please notice that the Scripture tells us to pray for our enemies, not against them. We are inviting God to get involved and minister to the people who've hurt us. Jesus modeled this on the cross when He prayed, "Father, forgive them, for they do not know what they are doing." (Luke 23:33-34 NIV).
I think Jesus averted a horrible divine judgement against the people in the crowd who had earlier proclaimed to Pilate in Matthew 27, "His blood is on us and on our children." In other words, they accepted the guilt before God of killing an innocent man—Jesus, the sinless Lamb of God!
Our Savior protected those who caused His death.
A Softened Heart
Nothing keeps my heart soft like praying the Holy Spirit's blessing on people who've hurt me.
I realize some people have suffered far more abuse at the hands of their enemies than I have. Please pray for your enemies any way you can. Your emotions will be screaming, but God always blesses His children for obeying Him when it's very hard to.
What I've discovered is you can't keep hating someone and yet pray for them at the same time. The more I pray, the less I hate.
Ironically, the bigger challenge turned out to be praying for her lawyer.
Spiritual Weapon #2: Don't Keep Rehearsing the Offense Over and Over
I don't have a verse for this one. It's just common sense. Reliving the offense over and over in our thoughts causes the injury to harden into concrete.
Whenever I find my prayers slipping over into accusation, I reset and start asking the Holy Spirit to minister blessing to them again. It's a true battle, but one we can't afford to lose. Fortunately, I already understood this principle before I heard about the lawsuit.
Spiritual Weapon #3: Return Good for Evil
Following this verse can be as simple as not taking the opportunity to badmouth your enemy to other people. Both she and I continued going to the same church. My husband Ralph and I kept the lawsuit quiet, only telling a few people. We told the church elders as the trial date drew nearer, because we needed prayer.
Ralph also let two mutual friends know, so they could go talk to this woman—but her heart didn't change.
During that time, I took Proverbs 25 very seriously.
21 If your enemy is hungry, give him food to eat;
    if he is thirsty, give him water to drink.
22 In doing this, you will heap burning coals on his head,
    and the Lord will reward you. (Proverbs 25:20-21 NIV)
We didn't retaliate. We didn't damage her reputation by telling the whole church. If she needed prayer from us, she got it. Strangely enough, there wasn't a break in fellowship. We had both loved this woman for many years, so we let that love reign and treated her with kindness. I even continued to pick her up for church. She lived only 5 minutes from the worship center, so we weren't going any distance.
Principle #4: Remind Yourself of God's Sovereignty.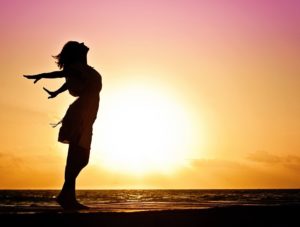 I started declaring that the outcome of the trial wasn't up to the jury, the judge or the lawyers. The Almighty alone was in charge of what would be decided in that courtroom.
It took two more years before our case came to trial.
Finally, the night before the jury reached its verdict, I surrendered the outcome to God in a much deeper way. It was a hard struggle. Finally, I could honestly say, "Whatever outcome You choose, Lord."
That surrender included the possibility of my friend winning and receiving a massive payout.
The jury read their verdict the next day. Their financial award ended up being thousands of dollars less than the settlement the insurance company had offered her family before the trial.
Epilogue
A lawyer from the insurance company defended us in the lawsuit, so it didn't cost us a dime. Even better, State Farm let us know before the trial that since we were cooperating, they would pay any damages awarded above and beyond what we were insured for.
This took a lot of pressure off us and State Farm gained a customer for life.
After the trial ended, I stopped giving this woman rides, much to her surprise. I guess she didn't expect the lawsuit to have any lasting consequences. She started attending a new church soon after and I hope she's happy. But greed is still firmly lodged in her heart. I'm convinced he'd sue me or again at the first opportunity.
Forgiving someone doesn't mean you have to be foolish.
Please share or like this post