Summary of the Pit Dweller Series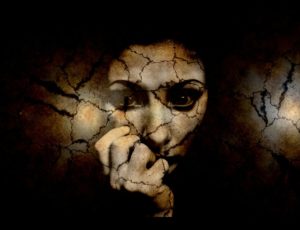 All of us have walked in dark places at one time or another. When a life-altering tragedy occurs, it's like a sinkhole suddenly collapses the sunny sidewalk beneath us. Dropping into a black pit filled with despair, fear and grief, we become reluctant pit dwellers. 
In December 2012, my brother Chris attempted suicide; he died five days later. The Pit Dweller Series is my testimony of God's goodness during that dark time.
Uncharted Territory
After Chris died, I became the sole owner of the house I grew up in. There was a lot to do.
My only other experience in home ownership came by proxy, because I'd married a homeowner. But I myself had never bought a house or sold one. Now we were faced with the daunting task of trying to sell a house in Michigan, when we lived four states away, in North Carolina.
And we'd have to empty out the contents of the house first. Not knowing how to begin, we needed to find professional help fast.
Once again, the Holy Spirit led us to the right people.
Our First Blessing: A Good Realtor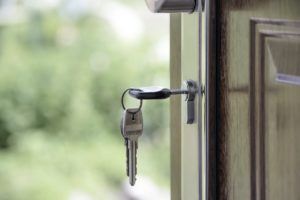 Someone we trusted recommended a realtor named Rosanne, who owned the Willow Realty Group. During a time of recession in Michigan, Rosanne actually was in the process of hiring 5 or 6 new realtors. Knowing this fact reassured me. This woman knew how to sell houses!
A few days before New Year's Eve, Rosanne walked with us through Mom's old house, seeing the worn carpet, peeling paint and chipped bathroom tile. The kitchen's linoleum floor had buckled in one spot years ago, exposing the wood underneath.
Two days later, we sat in her office and Rosanne gave us her assessment of the property.
Mom's house had "good bones." No major issues like bad roof leaks or a collapsed floor, so any improvements we made would be cosmetic; freshly painted rooms, new kitchen floor, etc.
In Michigan it was presently a "seller's market;" I owned the house, with no liens attached to the property. We had a corner lot, an unfinished basement with lots of potential and a detached garage—in Rosanne's opinion, my old home would be snapped up quickly.
Her estimate? $40,000 "as is."
With new paint, and other cosmetic changes? $50,000.
Our realtor became a wonderful asset for us. After taking a few mementos to treasure, we still had a house and garage full of tools, furniture, TVs, clothes, towels, books, records, dishes, etc. I had never before heard of "estate sales", but Rosanne knew of a local company that could help us.
Our Second Blessing: Jamie's Attic
A realtor sells property. But an estate sales agent sells the house's contents. We'd been trying to organize and sort through decades of accumulated stuff, when a woman from Jamie's Attic returned our call. Her urgent plea over the phone? "Don't throw away anything!" She knew my husband and I were totally clueless; we probably wouldn't know the true value of any item. In contrast, these people were appraisal experts.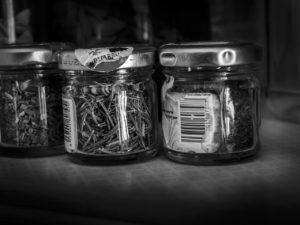 She further illustrated her point by saying that even a glass baby jar full of nuts and bolts would be worth a few pennies.
This woman didn't know it, but her random example hit home.
Down in the basement, in my father's old workshop, were several baby jars filled with different sized nuts, bolts, washers, nails, and screws. These jars still rested, dusty and undisturbed on his workbench, decades after his death.
An expert ordering us to do less work? Ralph and I grinned at each other and promptly quit sorting. Our task had seemed overwhelming.
The Lost Wood Carving
Just before New Year's Eve, an appraiser from Jamie's Attic came to look over the house's contents and decided to accept us as clients. While their people sorted and categorized everything, I asked the appraiser to look for one very special item.
In the late 1950s, my dad created a wood carving in his young son's likeness. I've seen photos of my brother as a two-year-old and the carving looked just like him. A profile of Chris' face as a toddler, carved in pine. One side flat, with my brother's face completely contoured and three-dimensional on the other side.
I would have treasured Dad's carving more than anything else from my childhood home. But the staff of Jamie's Attic never found it. I think in his depression, Chris threw Dad's wood carving away. He never understood that other people would value what he counted as worthless.
The Estate Sale
Jamie's Attic worked hard for us; contacting potential buyers, organizing all the house's contents and handling all the advertising. Three weeks after we hired them, they held the estate sale on January 18-19, 2013.
For their hard work, Jamie's Attic received 33% of the profits—worth every penny.
The first day's profits? $14,000. The second day? An additional $4,000.
In two days they completely emptied both the house and garage.
Jaime's Attic generated $12,000 in profit for us. Left to ourselves, Ralph and I probably would have made only a tenth of that.
This company also employed a handyman. He exposed the hardwood floor by ripping up the carpet, removed the broken gas oven after the plumber disconnected it, and got rid of a huge dirt pile in the garage.
Renovations and Repairs
I returned home to North Carolina on Jan 15th, 2013 a few days before the estate sale. It took me two days to drive home in Chris' car, because I always stopped overnight at the Ohio/West Virginia border. Ralph had left a few days before.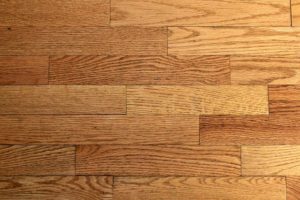 Rosanne continued to be an amazing asset. Because of the estate sale, I now had the money to fix up my old home. We quickly formed a great working partnership. Using Angie's List, I would find 3 or 4 local Michigan companies to do the type of work we needed. A person from each company contacted my realtor. Rosanne met them at the house, detailed the work she wanted done and asked each company to submit a bid for the job. After receiving all the bids, we'd talk long-distance and decide who to hire. I'd pay roughly 1/2 up front, and when my realtor expressed satisfaction about the completed work, I'd pay the remaining balance.
Since Rosanne knew what sold houses, I left all the paint color and floor pattern choices up to her and I loved the result.
By the end of March 2013, we had:
Patched and repainted all the interior walls.
Ripped up the old linoleum and laid down a new kitchen floor.
Exterminated all the carpenter ants accidentally disturbed by the workers in the kitchen.
Installed a new toilet in one of the bathrooms.
Refinished all the wood floors in the entire house—the result looked very similar to the polished wood flooring in the image above.
Selling the House
By late March, all the work was done. Rosanne re-assessed the local real estate market and asked if I would mind if she upped the asking price to $82,000.
Of course I immediately said, "No, that's out of the question. You promised to sell Mom's house for $50,000 and I am holding you to it." Otherwise we stood in danger of making a huge profit—horrible thought!
Just kidding; we listed my old home for $82,000.
Within a few weeks, we had a buyer. He wanted to make sure his bid was accepted, so he offered $88,000 instead and we accepted his offer gladly.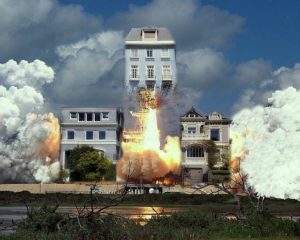 I flew up to Michigan in late April to sign the papers. For the last time, I walked through my childhood home. I'd seen pictures of the work, but going through the silent house—seeing the beauty restored and all the changes? It was very satisfying. I also liked the idea of Mom's house blessing a new family.
The new owner flipped houses for a living. Certainly work still needed to be done. Remodeling the 50-year-old kitchen, replacing the broken water heater, bringing the electrical wiring up to code and completely redoing both bathrooms—the work would probably take months. But I knew I'd sold him a good house.
Free from Debt
With the cash from the house sale, Ralph and I paid off our homeowner's loan and retired our large credit card debt. The money we received equaled the money we owed. Our debt had worried me for several years, but that day the Holy Spirit answered my prayers. The extra money which used to go toward interest payments now flows into a savings account. Ever since the house sale, we've been able to pay off our credit card almost every month.
People who don't know the Lord's goodness and power would be very tempted to say, "Coincidence."
Read my previous Pit Dweller posts—there's a few too many "coincidences" in this story.
The Next Chapter
At the beginning, when introducing the story about my brother's suicide attempt and death, I ended "Pit Dweller-Part 1" with these words:
Those five days in 2012 changed me forever. Come with me on this journey; I can promise you it won't be depressing, because Jesus' light shines in the darkest places.

He walks with pit dwellers too.
My life has changed in one key way. You see, Chris' suicide gave birth to my writing career.
My Fury Toward the Devil
In January, while sitting in my home church in North Carolina for the first time in almost a month, I suddenly got mad. 
I wanted to make the Devil sorry he'd ever messed with my family.
Satan had tormented my brother for years with depression, feelings of low self-esteem and suicidal thoughts. Finally, at Christmas time in 2012, all his evil schemes had born poisonous fruit. I believe Jesus ultimately saved Chris. But he died a cruel, unnecessary death, after years of living in misery.
Time for a little payback!
How to Mess with Satan's Plans for People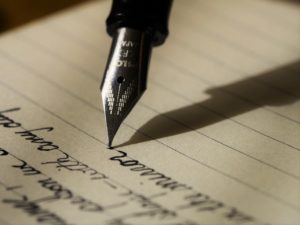 Sitting in church, I vowed to become a true "holy terror" and do all the damage I could to Satan's kingdom. To strike back by blessing far more people than I otherwise would have.
Writing Christian devotions seemed like a great way to start.
Instead of encouraging a handful of people in my local church, I could potentially bless and strengthen thousands of Christians all at once. My work might even bear eternal fruit, with the Holy Spirit's help.
Later God clearly confirmed that my Christian writing career is actually His idea, not mine. (See "Author's Bio.")
As I began to walk this new direction, I could sense the Holy Spirit laying down individual cobblestones for me to step on. I don't know where my new career will take me, but I do know I'm on the right path.
And I have a great Guide.
Please share or like this post