What is the Breastplate of Righteousness?
13 Therefore put on the full armor of God, so that when the day of evil comes, you may be able to stand your ground, and after you have done everything, to stand.

14 Stand firm then, with the belt of truth buckled around your waist, with the breastplate of righteousness in place, Ephesians 6:13-14 (NIV)
What is Paul's "breastplate of righteousness?" How do we put it on? And what injuries does wearing this spiritual breastplate protect us from?
History
In earlier times, the breastplate was a piece of armor protecting the heart, lungs and other vital organs during vicious hand-to-hand combat. Wearing a breastplate could turn a sword's deadliest thrust into just a bad bruise.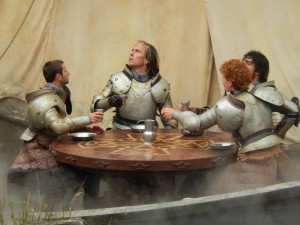 But the finest armor made didn't do a soldier any good if he wasn't wearing it. Metal armor protected people well, but it added weight. In medieval times, a suit of armor would weigh up to 45-55 pounds, but unlike a modern soldier's backpack, the weight was evenly distributed around the knight's body.
Jesus' Gift
When Paul exhorts us to have "the breastplate of righteousness in place," whose righteousness is the apostle referring to? Christ's righteousness is given to every believer (Philippians 3:9 and I Cor 1:30) and allows us to enter heaven. It's inside us as a free gift; we don't have to mentally put it on like protective gear.
Good Deeds from Bad Motives
At the same time, our own good deeds are often tainted with wrong motives. I am not truly righteous if I give generously to receive praise from the people around me. (Matt 6:2) Or pray long elaborate prayers (Matt 6:5) to impress others with my spirituality.
Motive counts greatly in God's eyes. Far too often, my own motives are tainted.
Faking Righteousness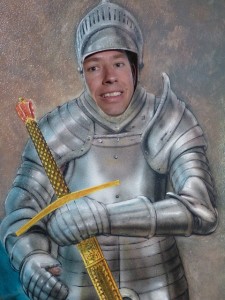 Another problem occurs when we pretend to be righteous. A quick glance at this guy might fool you into thinking this "knight" is clothed in a full suit of armor. In fact, he's "clothed" in cardboard.
At a carnival, it's a fun game; but for a Christian, faking righteousness is both hypocritical and dangerous. When Paul tells us to put on our armor it's because we will face real battles as Christ-followers.
11 Put on the full armor of God, so that you can take your stand against the devil's schemes.

12 For our struggle is not against flesh and blood, but against the rulers, against the authorities, against the powers of this dark world and against the spiritual forces of evil in the heavenly realms.

13 Therefore put on the full armor of God, so that when the day of evil comes, you may be able to stand your ground…

Ephesians 6:11-13 (NIV)
Our Battlefields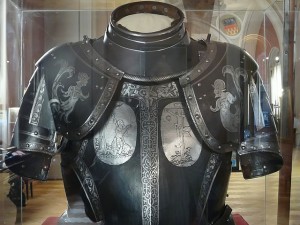 As Christians we are called to battle temptation, fear, our own self-centered thoughts and actions, greed, pride, worry, self-pity, unbelief and lust. And that's just the inner battle! We are also called to collectively fight poverty, disease, hunger, injustice cruelty, prejudice, slavery, neglect and abuse.
So if Paul's breastplate of righteousness isn't Christ's righteousness–because we are called to put our armor on—and it's not our own flawed good deeds, what is it?
The Source of our Breastplate of Righteousness
I don't read Greek or Hebrew; this is only my own thinking. I believe we wear the breastplate of righteousness when we walk in obedience to the Holy Spirit's leading.
We are armored against some of the enemy's most subtle attacks when we obey God's word and the conviction of His Holy Spirit.
Our Lord has the map to Satan's minefield. When we're quick to forgive, walk in unity with other believers and respond promptly to our General's lightest command, the devil starts having a very bad day, week, month, year or decade. He can't control us, for we walk in step with the Lord of Hosts.
7 Submit yourselves, then, to God. Resist the devil, and he will flee from you.

James 4:7 (NIV)
The submitting comes before the resisting.
Conclusion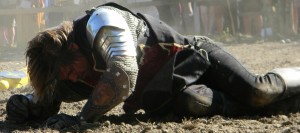 I don't know why I started thinking that obedience to the Holy Spirit's promptings was optional. Maybe because when I first failed to obey Him, no nearby tree suddenly got struck by lightning. God could keep us permanently terrified of His power and wrath, but He doesn't choose to. My 'breastplate of righteousness' will become securely fastened around me as I become more swiftly obedient to my Commander.
All digital images came from Pixabay.com
Resources:
Today, I am including links to two fun videos:
Mythbusters. Tory, Carrie and Grant dealt with a myth that ancient Chinese warriors wore paper armor into battle and it turned out to be as effective as metal armor. Their research–also on the website–discovered that paper armor in China actually existed as early as 600 BC. This clip is the 3:50 minute after-show. (Click this Mythbusters link.)
Mobility. My second video demonstrates just how flexible suits of Medieval armor really are. Click here.
Additional Scripture
Interestingly enough, the Lord Himself put on the same armor in Isaiah 59:17 (NIV) before dealing with His enemies.
He put on righteousness as his breastplate,
    and the helmet of salvation on his head;
he put on the garments of vengeance
    and wrapped himself in zeal as in a cloak.
Please share or like this post