An Unseen Idol?
 Sometimes the Holy Spirit uses Scripture to expose the hidden hardness in my own heart. This verse in Proverbs 30 is actually a prayer—and it smacks me in the face each time I read it.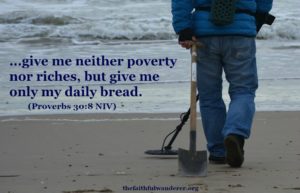 Two Heart-Revealing Verses
8 Keep falsehood and lies far from me;

    give me neither poverty nor riches,
    but give me only my daily bread.

9 Otherwise, I may have too much and disown you
    and say, 'Who is the Lord?'
Or I may become poor and steal,
    and so dishonor the name of my God.

(Proverbs 30:8-9 NIV)
My reluctance to pray this prayer is an indication that my heart is wrong. Some of my emotional security is linked to having a steady income, a safe comfortable home and money in the bank.
This is a common problem for Christians in first world countries. The very things God has blessed us with tend to eclipse Him.
Unlike the rich young ruler in Mark 10:17-22, are you willing to pray this prayer, knowing that God might answer?
Today, that's my spiritual challenge to you and to myself.
Please share or like this post