The One Who Surrounds Us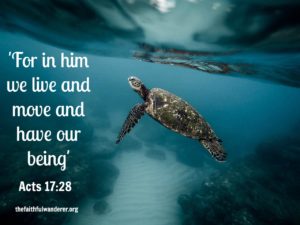 'For in him we live and move and have our being…' (Acts 17:28 NIV)
Enjoy my ocean dwelling sea turtle and meditate on the reality that God is always with you.
This image is from Pixabay.com.
Resources:
According to Biblegateway.com Paul borrowed this quote. "For in him we live and move and have our being" from the Cretan philosopher Epimenides,
Even though a philosopher from Crete first spoke these words, the omnipresence of God is an established spiritual truth; check out Psalm 139.
Please share or like this post