Do I Swim in the Pool or in the Ocean?
I just enjoyed a mini-vacation with my husband at North Myrtle Beach. We had an 11th floor room with an ocean-side balcony.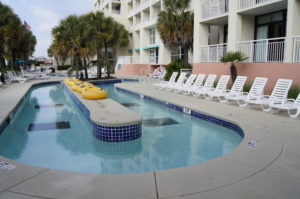 Directly below us we could see an outdoor 'Lazy River' pool with yellow inner tubes, a hot tub and a kidney-shaped pool only 3 to 5 feet deep.
Beyond the fenced-in pool area lay the beach and then the Atlantic Ocean.
The Pool
My choice: swim in the ocean or swim in the hotel's pool? Between the two there is a huge contrast. The pools are blue, crystal clear and sterile; people are even encouraged to shower first. By design, nothing, not even bacteria, lives in that water. Any sea creature trying to breathe that toxic chemical soup would die.
I know from personal experience.
Breathing Pebbles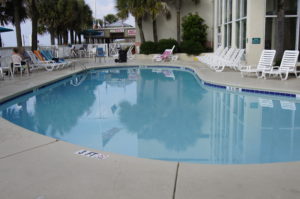 As a small child visiting my grandparents in Florida, I became fascinated with some "breathing pebbles" opening and closing in the ocean shallows. With my parent's permission, I scooped up a few of these sea critters and put them in a jar, along with some ocean water. After reaching our vacation home, I decided my fascinating new friends needed more water, so I added some–from the tap.
Oops. That didn't end well.
Within a day, the water started smelling bad and at 4 years old, I learned my first ecology lesson: ocean life needs ocean water to keep living.
I've never forgotten–but the lesson was a little hard on my "breathing pebbles."
There are advantages to swimming in the hotel pool. There's almost no danger of drowning. No jellyfish stings or shallow water shark bites. No rip tides drag you away from the shore. No broken sea shells ever cut your foot.
The hotel pool is a very safe, drama-free environment.
Experiencing the Ocean
The placid pool environment is quite unlike the wildness of the ocean waves and the briny taste of salt water. Walking on the beach, watching hungry sandpipers scurrying back and forth in the surf fascinates me. I love the soaring gulls too and the unexpected surprises found on the wet sand, like the remains of strange sea creatures.
But nothing compares with wading out and experiencing the ocean's energy first hand. Even on the calmest day the waves possess tremendous power.
With the water a little over waist high, some of the waves coming toward me rose over my head. I quickly turned to face the beach and braced myself. The biggest waves lifted me off my feet and pushed me toward the shore. It was thrilling because under different circumstances, this same ocean could easily smash me flat or tumble me around in the surf.
The Lazy River Pool
I enjoyed the ocean waves, rinsed off and then tried out the hotel's two outdoor pools
Riding the inner tube on the lazy river? Awkward and boring. I never got comfortably situated on my tube.
A Floating Infant
The second kidney shaped pool became fun only because of an infant riding a floating, shaded pool toy. The pale baby girl sat in the pool's water, 100% safe and shielded–even from sunburn. Her mom or dad stayed right with her.
But someday, she'll walk into the exciting ocean. Where the waves rhythmically rumble ashore 24 hours a day. Walk into a world unsafe, unpredictable, wild and eventful–where anything can happen and where her choices matter.
Her father loves his baby girl. So yes, he wants her to be safe and happy. But his heart would break if, as a woman of 27, she kept metaphorically floating inside a plastic toy in a small, safe, sterile pool, rather than braving life's ocean's waves.
Christ's Desire for Us
In Ephesians 4, the apostle Paul talks about growing into maturity in Christ. Life's struggles and failures, plus godly guidance and the Holy Spirit's leading help each of us to grow toward the mature Christians we are called to be. Followers who reflect Jesus' nature. Salt and light to people still dwelling in darkness. Faithfully fulfilling our unique role in God's plan.
Yet each of us starts out as a newborn in Christ. Perhaps Paul was thinking of the Mediterranean Sea when he wrote:
14 Then we will no longer be infants, tossed back and forth by the waves, and blown here and there by every wind of teaching and by the cunning and craftiness of people in their deceitful scheming. (Ephesians 4:14 NIV)
Our Heavenly Father Calls Us to Brave the Ocean
God doesn't mean us to spend our lives 100% safe, secure and comfortable, floating in a lifeless swimming pool. That's not the world He created. In God's world, you're going to hit rough weather; huge waves will submerge you; wayward currents start pulling you in the wrong direction. Occasionally you'll even get stung. Christ-like character forms when we respond in a godly, scriptural way to all of life's pressures.
If we don't, we stay helpless, clueless "spiritual infants"–always battered by the waves, but never living up to our potential.
11 So Christ himself gave the apostles, the prophets, the evangelists, the pastors and teachers, 12 to equip his people for works of service, so that the body of Christ may be built up 13 until we all reach unity in the faith and in the knowledge of the Son of God and become mature, attaining to the whole measure of the fullness of Christ.

(Ephesians 4:11-13 NIV)
The Opposite Choice: Remaining in the Pool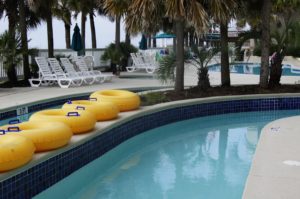 There's a new age teacher on television whose solution to attain inner peace is to exclude from her life any people who are negative or who produce turmoil. Her teaching amounts to "sweep troublesome people out of your orbit and your life will stay tranquil."
That's a woman determined to stay in the swimming pool.
Fortunately when we follow our Savior, He will lead us in out of self-centered comfort and into a life of greater purpose.
So, are you ready to plunge back into the ocean?
The images of the hotel pools were supplied by me, Maureen Puccini. The images of the sandpiper and the two ocean scenes came from Pixabay.com.
Resources:
Can anyone identify what type of creatures my "breathing pebbles" in Florida were? Perhaps a type of barnacle, but they appeared to be small living stones which opened and closed underwater and weren't attached to any surface.
Please share or like this post